Doug Polen
Faster.Safer.Better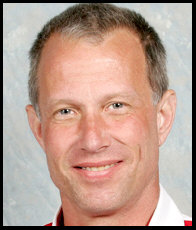 Doug Polen was born in Detroit, Michigan on September 2, 1960. Growing up he lived in Michigan, Ohio, California, New York, and Texas. He is currently residing in Camarillo, California. Most of his life he lived in Texas from 1973 till 2002.
Doug started his road racing career in Texas at Oak Hill Raceway in 1977. He progressed thru the initial years in the Lightweight Production and Superbike classes. Rising to the top in the Central Road Racing Club in the early 80's, he retired from racing in mid 1982.
In November, 1985 Doug was approached by two friends of his to ride in a new Series that was starting in February 1986. That Series is now known as the "GSXR National Cup Series". He agreed to come out of retirement to ride in this new Series. Motivated by the chance to make enough money from contingency money paid by Suzuki in the Series and the opportunity to travel all over the U.S. and race at 23 different racetracks in one year was all he needed to get right back in the saddle and ride again.
Ride again he did, racking up win after win in 1986. When the year was over, he had won 45 out of 51 GSXR Cup races, 1st in the 750 Cup final and 3rd in the 1100 class. He continued his success in 1987 joining the Kosar Racing Team. He competed in the AMA Superbike class full time for Kosar using GSXR equipment. He finished 4th overall for the year and gained valuable Superbike experience against some good riders including Kevin Schwantz, Wayne Rainey, Bubba Shobert to name a few.
In 1988, Doug got his big break riding for the infamous team Yoshimura R&D of America. There, he got the experience he needed to hone his talent with a team that has been and still is one of the most successful teams in Superbike racing.
Racing for Yoshimura in '88 opened up an opportunity to ride for Yoshimura Japan (parent company to Yoshimura R&D) for the '89 Season in Japan. The result was a double championship in both Formula 1 and Formula 3 for Polen and Yoshimura.
At the end of the 1990, Doug left the Yoshimura Suzuki crew for a lucrative ride with Eraldo Ferracci aboard a Ducati 851 Superbike.
The '91 season consisted of riding for Fast By Ferracci on a Ducati Superbike in both the AMA and World Superbike Championship Series. Doug posted a record breaking number of wins in a season in World Superbike Championship history, 17. He won the World Superbike Championship by 150 points over his nearest competitor. He also won the AMA Pro Twins Championship.
The '92 season saw more of the same as Doug rode a Ducati 888 and again won the World Superbike and finished 3rd in the AMA Superbike Championships.
In 1993 Doug, at the request of Ducati Italy, concentrated his racing efforts in the AMA Superbike Championship only. As a result, he won the AMA Superbike Title rapping up the Championship with 2 rounds to go.
1994 brought an opportunity for Doug to ride for HRC (Honda Racing Corporation) on a new Superbike – the RC45. Results were very spotted and he finished 4th in the World Superbike Championship.
1995, Doug decided to leave Honda's Superbike squad and only rode a couple of events the remainder of the year.
1996, Doug returned to riding what really put his career on track, the Suzuki GSXR. He rode a 750 for the factory endurance racing team S.E.R.T. (Suzuki Endurance Racing Team) based in France and also rode an 1100 in the AMA SuperTeams Series for Team Ebsco Suzuki.
In 1997, Doug returned to winning World Championships. Aboard the S.E.R.T. GSXR-750, he won the World Endurance Championship along with teammate Peter Goddard.
1998, Doug changed teams from the Suzuki factory team to the Honda Racing Team. Riding the RC-45, he again won the World Endurance Championship.
The following years have seen Doug participate in various races and doing promotional appearances.
Currently, Doug is offering his services to instruct people One-on-One at Track Day Events throughout the United States.