FAQ's
Faster.Safer.Better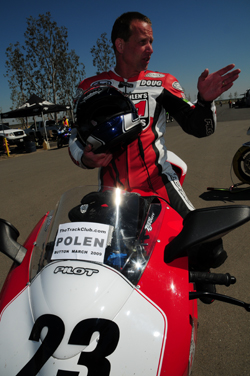 Why should I take this riders school?
This school is unlike any other. We work in real time on the track via 1 way radio communication. Doug will coach you directly as you learn on the track from turn to turn with less time wasted in the classroom.
Who is the instructor?
Doug Polen is the one and only instructor. You wil be personally instructed by Doug himself. No one else.
How many students are there per class?
There will be a maximum of 6 students per class.
What tracks do you operate out of
We teach at many different tracks across the country, check the schedule to see where we're headed next.
How many days are your schools?
Each class is one day, but can be taken in multiple days back to back based on the schedule.
Do you provide bikes to ride?
All classes are taught with you and your bike so that you are able to apply what is learned on the bike you would normally ride. We can provide you with a rental bike if needed. Please contact our office for further info.
Do you offer rental leathers?
Yes. We have a limited amount of Pilot Leathers on hand that are available for rent. Please contact us for availabilty and cost.