School Info
Faster.Safer.Better
Two Day Camps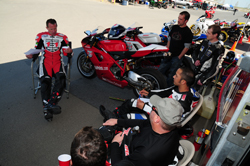 Max of ten Students for the whole event! The smallest class size in the Industry that is taught by a World Champion.
Two day structured event with a focus on your specific needs. Doug will determine what the focus for you will be based on the prior experience questionnaire that you will fill out before to the event.
During the event Doug will run a rear facing video camera to provide a video for you and Doug to analyze together. You will receive a copy of it at the end of the weekend.
Dinner with Doug on the evening of the 1st day where he will discuss the fine points of bike set up and riding style. He will also answer any questions you have and give you the inside story of his past and present racing career.
Day 1
Techniques:
Visual awareness
Concentration
Body position
Steering technique
Cornering lines
Using reference points
Gear selection and shifting technique
Braking techniques: Trail Braking
Staying smooth and controlled
Collision avoidance
Familiarizing you with the track, set up of your bike and setting the goals for the day
Some of the goals set may be from the following menu of techniques that are listed on the prior experience questionnaire.
Doug will discuss your goals with you prior to you being scheduled to ride exclusively with Doug throughout the day, in between you will be riding with the others in the group perfecting the techniques Doug has shown you.
Day 2
In the morning Doug will review your progress and make any adjustments to the goals set for the last day.
You will spend the day on the track finishing up at the end of the day with a group Q & A with Doug.
1on1 track day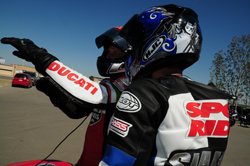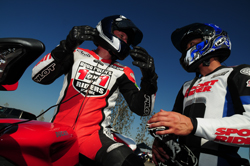 We are set up at the track by 7:30 am with extra place set aside for you, your bike and gear to pit with us for the day. We will have shade, chairs, beverages and snacks there for you.
7:30 to 8:30
Set up, get your bike through Tech. You get wired up with a radio system, head set, and Lap timer (where available).
8:30 to 9:00 Riders meeting held by the track day provider.
9:00 to 9:15 We meet with Doug and discuss what to expect when you are out on the track with just him.
9:20 to 10:00 You will be put in one of 2, 3 person groups that will go out with Doug for a few orientation laps where he will lead you around in a group of 3 pointing things out and giving you a turn by turn description of the track, where you should be and what you should be doing until your 1st 1 on 1 session begins.
10:00 to 5:00 PM You are scheduled to be on the track working exclusively with Doug throughout the day; in between you ride on your own working on what you have learned.
4:30 to 5:30 Open Q & A with Doug where he will go over what you have learned and answer any and all questions.
What we provide in addition: We, or one of our partners fully sets up your suspension and fine tunes it througout the day. There are the basic tools available, air and tire gauge. At all Southern CA event we bring the BIG trailer that has Heat and A/C, a large canopy and on board power, a very comfortable pit for sure. At the away events we run a large Sprinter Van and bring our Pop up canopies to provide the group shade. We always bring lots of fresh water for your use.
1 on 1 Racing Programs
in conjunction with AHRMA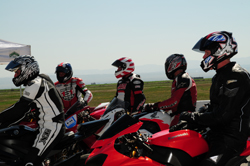 Areas of Focus:
Race starts: getting the best one possible
Getting through the first lap in one piece
Concentration and staying focused
What to do prior to the race
Passing
Steering technique
Cornering lines
Using reference points
Gear selection and shifting technique
Braking techniques: Trail Braking
Staying smooth and controlled
Collision avoidance
New Racer Program
Just Pay the School fee, be ( or become ) an AMA member, join AHRMA and sign up for your races then your practice day is Free a $ 100 value that is included in the low price of the school.
During the school day you will be walked through the whole race day process from sign up and Tech inspection to getting yourself on the grid properly. We will cover all of the safety aspects of running on the track in race environment you will be taught the proper race etiquette. Throughout the day you will shift from the class room to the track and back. At the end of the day you will participate in a mock race held for the benefit of the new racers where you will get to experience what you learned that day from grid to start to checkered flag. At the end of the Day you receive your official AHRMA race license Signed by Mr. Pollen
Please Note that this program is not always taught by Doug but he is always there that day for Q & A with all of the students.
Advanced Racer Program
If you are not currently licensed in AHRMA and you hold a license in another series we can get you a license. If you have never raced then you need to start with the New Racer program after that you can move in to the advanced program.
2 day intensive racer program, Doug works with you alone in practice at least once each day during the Friday, Saturday and Sunday practice sessions. He talks you through just before you race, during your race along with doing a post race wind down. Doug either runs with you on the track during your race talking to you via radio or from the pits. His voice will keep you calm and focused on improvements you are trying to make.
These are some of the menu of items that you can request Doug specifically focus on with you for the race weekend.